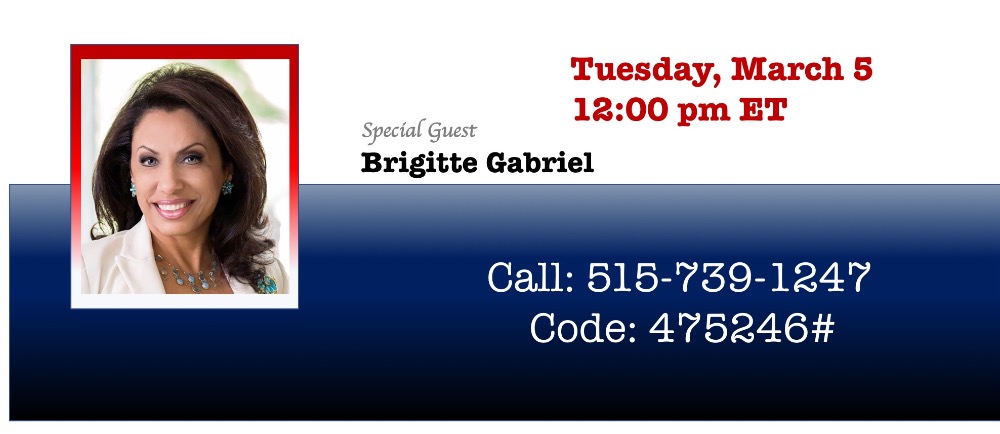 Under the Radar: The Threat from Domestic Islamic Terrorism
Join us in a conversation with Brigitte Gabriel, terrorism expert and chairman of ACT for America.
Tuesday, March 5, 2019 at 12 p.m. (ET)
Dial 515-739-1247; enter code 475246#
Dear

Robert

,

While the media obsess over any news that promotes the Democrats' "Green New Deal" or undermines President Trump, a radical Islamic influence operation is working at the highest political levels nationwide funded and supported by the radical left to change and transform our country.

Who is aiding and abetting this ongoing, existential threat to America and what should be done to counter it?

Brigitte Gabriel is a New York Times best-selling author. Her latest is "RISE: In Defense of Judeo-Christian Values and Freedom."

Brigitte Gabriel is one of the leading terrorism experts in the world, providing information and analysis on the rise of global Islamic militancy. She lectures nationally and internationally about terrorism and current affairs.

She has addressed the United Nations, the Australian prime minister, members of the British Parliament/House of Commons, members of the United States Congress, the Pentagon, the Joint Forces Staff College, the U.S. Special Operations Command, the U.S. Asymmetric Warfare group, the FBI and many others.

Ms. Gabriel is a regular guest analyst on Fox News Channel, CNN, MSNBC and various radio stations daily across America, and the author of three best-selling books.

She is founder and chairman of ACT for America, the largest national security grassroots organization in the U.S., with one million members dedicated to preserving national security and promoting Western values.

Ms. Gabriel was knighted in Europe in 2016 by the Knights of Malta, for her international work fighting terrorism and standing up for Western, Judeo-Christian values. She joins a long list of knights including former Presidents Ronald Reagan and George H.W. Bush, Nelson Mandela, Former British Prime Minister Tony Blair, Henry Kissinger and others.

Ms. Gabriel has been named one of the top 50 most prominent speakers in America. She is fluent in Arabic, French, English and Hebrew.

Please join us for this informative and stimulating discussion.

For God and Country,

Robert Knight

STAND Senior Fellow
DISCLAIMER REGARDING NONPROFIT ORGANIZATIONS
The National Emergency Coalition (NEC) is a Coalition of individual leaders. The weekly conference calls held under the NEC banner are for the advancement of certain ideas and principles. The participation of any candidate does not imply endorsement by the members of the coalition or their respective organizations. Discussion of political activity, elected officials or candidates is primarily in regard to their policies. Nonprofit organizations are prohibited by the Internal Revenue Code and its regulations from engaging in a substantial amount of political activity. Nor may nonprofits endorse or contribute to candidates. Officials of 501(C)(3) entities should consult with an attorney or accountant for specifics regarding compliance.
Contact Us
S.T.A.N.D. Foundation, Inc.
P.O. Box 15022

Chesapeake, Virginia 23328
757-375-6444
stand@standamerica.us